I attended a memorial service recently for a man taken from earthly life too soon. There were many people present in the church to remember him and pay respects to a man who was son, brother, husband, father, friend and more to many individuals. The poem printed below was read aloud during the service and printed in the bulletin. It was meaningful to me. It speaks of power and individuality and grace and purpose.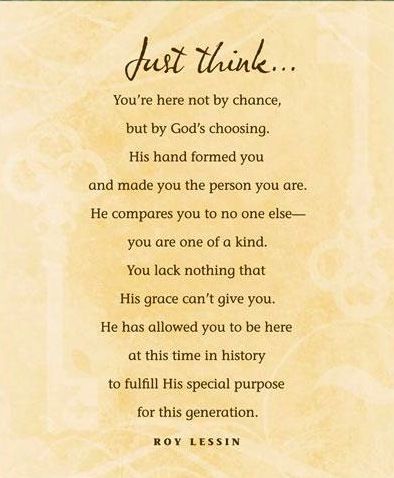 When the Roy Lessin words are reshaped in first person presentation, the emphasis of the words seems even more pronounced:
I am here not by chance. God chose me. He formed me and shaped me to be just who I am for his glory and he compares me to no one else. I am his masterpiece. There is nothing I lack that his grace will not provide. He chose me to be here for this time in this period of history for a special purpose unique to this time and place.
Words like that remind me of my special qualities, my uniqueness, individuality, talent, abilities, gifts, knack, capabilities and aptitude. These are things I often take for granted or maybe even overlook in myself. What am I supposed to do with these qualities? What if I wish I had different qualities? What are MY gifts that I employ to live life well and glorify God in the process? If I am not sure, shall I ponder this a bit? How shall I identify my gifts? How shall I use them to bless others? These are the things God gave to ME for HIS purpose. Should I rejoice? Yet, do I?
God's gifts to this world are many. We appreciate flowers, scenery, a delicious meal, a good book, beautiful artwork, special people, positivity, blessings, memories and loved ones. We admire the talents of others and sometimes their lives as well. However, when we think of God's gifts do we think of ourselves? Do I think of me? Not usually…but the Roy Lessin poem imaged above reminds me that I should. How about you?